About SERVPRO of North Kenner, Harahan & Lakeview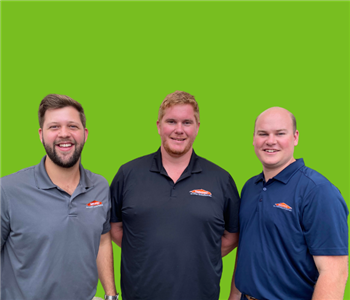 William R. Love, Jr., Taylor R. Rosson, Jim A. Metteauer
Owners of SERVPRO of North Kenner, Harahan & Lakeview
SERVPRO of North Kenner, Harahan, & Lakeview has proudly been serving the local community since 1992. Over the last 30 years, we have experienced many devastating natural disasters alongside our community helping restore properties back to its original state. We understand the claiming process is very difficult and stressful to go through. Our team is properly prepared to put your mind at ease, and make your restoration needs a breeze. From extracting water to putting it all back together SERVPRO of North Kenner, Harahan & Lakeview has got you covered. We pride ourselves on three fundamental basic principles: hard work, proper training, and customer service. We care about our community and the residents who live here.
As of October 2018, William Love, Jim Metteauer, and Taylor Rosson purchased the franchise from a long-standing SERVPRO operator. Growing up on the Mississippi coast, William and Taylor lived through Hurricane Katrina and experienced major water damages. They understand what it is like to go through these trying times.
Water damage can strike a home or business at any time, and we are always prepared to help. SERVPRO of North Kenner, Harahan & Lakeview has a crew on call 24/7 to assist the needs of those in emergency situations. From water damage at your Kenner home to water damage in a commercial building in downtown New Orleans, we have the experience and training to quickly mitigate these losses. SERVPRO has a strict 1-4-8 response time (1 hour to return the call, 4 hours to respond on-site, 8 hours to have a full scope of work to the insurance company), and we at SERVPRO of North Kenner, Harahan & Lakeview pride ourselves on exceeding these standards.
Fire damages are common in our old homes and businesses in the New Orleans area. Our community boasts many beautiful homes built in the 1900s but these homes can have dated electrical systems leaving them more susceptible to fire damage. SERVPRO of North Kenner, Harahan & Lakeview will respond to your home or place of business and provide a full scope of work for the fire loss. We will work with your insurance company to ensure the proper storage of your belongings while your property is restored.
Should you experience a loss at your home or property, we would be honored to assist in your restoration needs. Please call SERVPRO of North Kenner, Harahan & Lakeview where we will treat you like family.
Insurance and Payment Information
For a stress free claims process, SERVPRO works with your insurance to help manage the insurance process and paperwork.
Certifications
ASD - Applied Structural Drying Technician
CCT - Carpet Cleaning Technician
CMT - Commercial Carpet Maintenance Technician
ECTP - Employee Certification Training Program
FCT - Floor Care (Hard Surfaces) Technician
FSRT - Fire & Smoke Damage Restoration Technician
IICRC Certified Firm
OCT - Odor Control Technician
OSHA - 10-hour General and/or Construction Industry Training Program
OSHA - 30-hour General and/or Construction Industry Training Program
RCT - Rug Cleaning Technician
RRRP - Lead-Based Paint Activities and Renovation
SMT - Stone, Masonry and Ceramic Tile Cleaning Technician
UFT - Upholstery & Fabric Cleaning Technician
WRT - Water Damage Restoration Technician